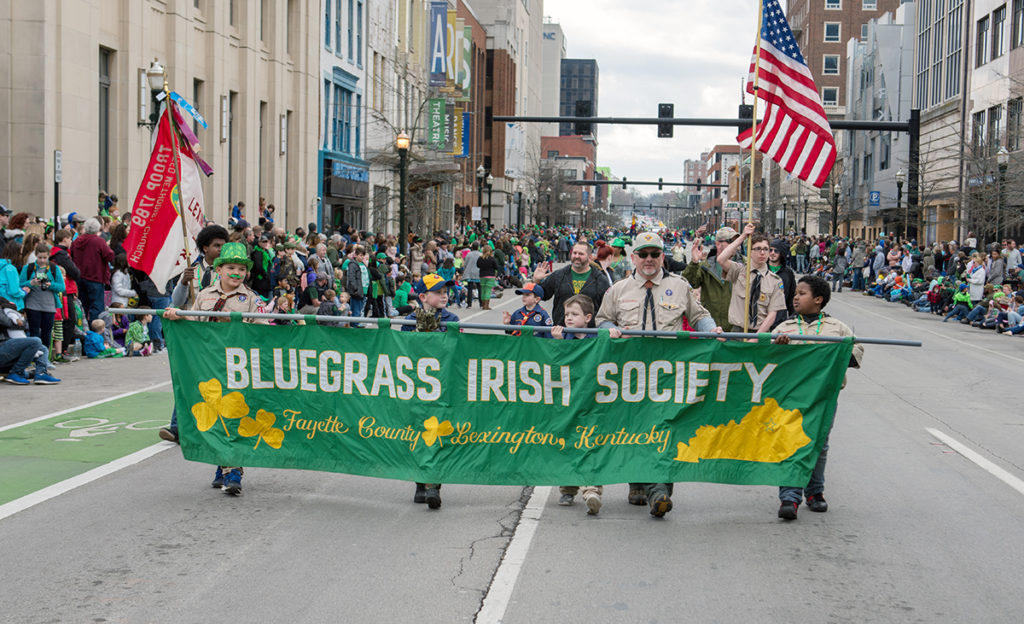 The Alltech Lexington St. Patrick's Parade and Festival is planning its return to downtown Lexington on Saturday, March 11. Entries for parade participants and festival vendors for the annual outdoor event are now being accepted.
Sponsored by the Bluegrass Irish Society since 1980, the parade and festival are produced by the Lexington Division of Parks and Recreation with community support from local businesses and cultural organizations.
"We're very much looking forward to bringing the parade and festival back to the streets of downtown this year," said Megan Moloney, the society's president and parade chair.
This year's celebration begins at 10:45 a.m. with the "Blessing of the Keg" at Henry A. Tandy Centennial Plaza, which kicks off a free festival with entertainment from regional bands, local Irish dancers and food and craft vendors from throughout the region. The parade begins at 1 p.m. on Main Street.
"We feel like this year we are going to have the luck of the Irish behind us," said Liza Betz, owner of Fáilte Irish Shop and vice president of the Bluegrass Irish Society. "Because of COVID and bad weather, we haven't been able to have our yearly celebration of St. Patrick for three years. Our new location will help with weather concerns. We are ready to once again have a St Patrick's parade and festival to remember!"
Applications for parade participants, concessions and festival vendors can be found online at lexingtonstpatsparade.org. Vendor applications are due by February 17. Parade unit entry forms are due by March 1.
The parade celebrated its 40th anniversary in 2019, the last time the full event was held in person. This year will be the 41st St. Patrick's parade held in Lexington.
Entries, vendors sought for Alltech Lexington St. Patrick's Parade and Festival