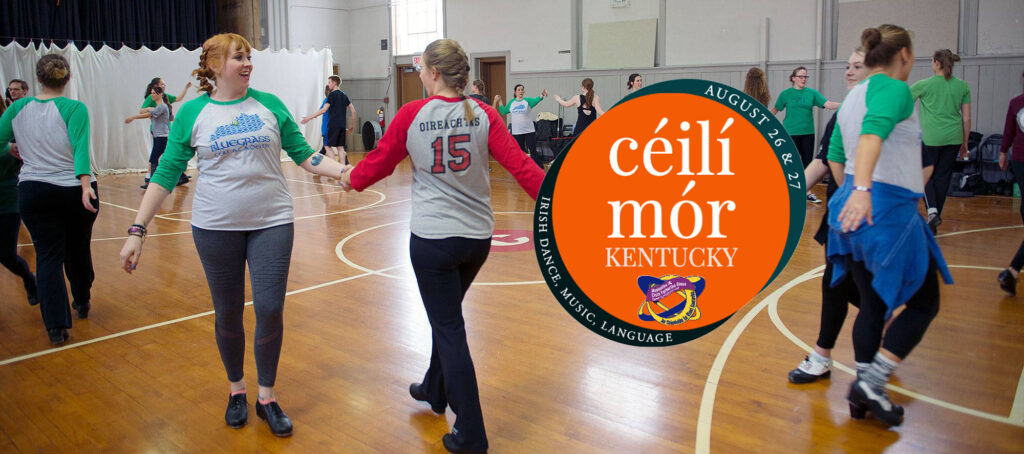 The Bluegrass Irish Society, in partnership with McTeggart Irish Dancers (Kentucky) and Bluegrass Ceili Academy, presents Céilí Mór Kentucky, a weekend celebration of Irish dance, music and language.
Céilí Mór Kentucky is made possible in part by a dance development grant from An Coimisiún Le Rincí Gaelacha.
Join us August 26-27 in Lexington at Artworks at the Carver School for two days of workshops in Irish dance, music and language. Learn from professional musicians and dancers and participate in a community ceili to wrap up the event. Admission is $5 per day (unlimited classes per day). Artworks at the Carver School is located at 522 Patterson Street in downtown Lexington.
For a full schedule of classes and to register, visit our registration page. Here are just a few of the workshops on board for the weekend.
Music Classes
Irish Dance Tunes I (Jigs and Slip Jigs): When most people think of Irish music they think of jigs. To that end we'll kick off the weekend on Friday by learning a jig, and exploring the difference between jigs and slip jigs. All instruments welcome!
Irish Dance Tunes II (Reels): Tunes in 4/4 time show up in music all over the world, but the sound of an Irish reel is unmistakable! We'll not only learn a reel in this Saturday workshop, but touch on everything from the quirkiness of single reels to how to reach those blazing dance speeds. All instruments welcome!
Rhythm and Ornamentation in Irish Melody Playing: Irish dance music is all about rhythm, and one of the most interesting ways to accent rhythm is through ornamentation. In this workshop we'll explore how to play various ornaments and how they fit into tunes. This workshop will cater specifically to melody players, but all instruments are welcome!
Music Theory for Irish Dancers: Are you an Irish dancer who wants to know a bit more about the music you're dancing to? Do you want a better understanding of how to differentiate between a reel and a hornpipe; or how to count a slip jig? In this class, Jeremy Wade will lead participants through the rhythmic anatomy of each of the common Irish dance tune types. Beginning with a crash course in music theory, dancers will analyze how rhythms are incorporated into various time signatures and tempos, and will have the opportunity to apply this knowledge to some basic dance steps.
Irish Dance Tunes (Hornpipes, Hop Jigs, and More): Having covered some of the faster dance tunes in Irish Music, we'll get into a laid back groove with swung rhythms. In this workshop we'll explore hornpipes, barndances, flings, and hop jigs. All instruments welcome!
Introduction to Bodhran: Learn the basics of Irish percussion using a bodhran.
Language Classes
Irish Language for Céilí Dancing: Learn vocabulary for céilí lingo and basic dance moves, then practice what you've learned at the evening céilí.
Conversational Irish A & B: Take your first steps into speaking Irish in day-to-day life, ease anxiety about pronunciation and gain simple tools to help you continue learning on your own. Classes A and B will cover slightly different material for anyone who would like to attend both sessions.
Bringing the Irish Language Into the Dance Classroom: Gain stress-free, efficient strategies for incorporating Irish into your dance classes with confidence. It's easier than you think!
Dance Classes
Steps for Ceili Dancing I & II: Learn the basic moves you'll need for ceili dancing – forward, backwards and side to side.
Sean Nos Reels: Old-style Irish dance steps focus on rhythm and accompanying the music. Learn basic sean nos steps for reel in this class.
Old Style Jigs & Hornpipes: Take your sean nos learning to the next level and learn steps to jig and hornpipe tunes.
Molyneaux Blackbird: Jeremiah "Munnix" Molyneaux, the last of the Kerry dancing masters, was renowned for his creative, rhythmic choreography. Dip your toes into a regional Irish dance tradition and enjoy learning this unique version of the Blackbird traditional set dance.
Celebrating Irish dance, music and language at Céilí Mór Kentucky