Lexington community benefactor to lead annual event, festival entertainers announced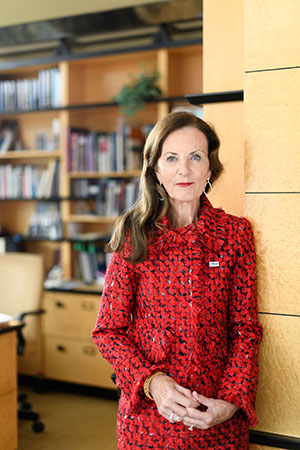 The Alltech Lexington St. Patrick's Parade and Festival is honoring one of the event's original supporters as its 2022 parade grand marshal. Deirdre Lyons, co-founder of Alltech, will lead the annual celebration on Saturday, March 12 when it returns to downtown Lexington after a two-year hiatus.
The partnership between Alltech and the Lexington St. Patrick's parade is longstanding. Since the first parade in 1980, Lyons and Alltech have been ardent supporters.
"When Pearse and I moved our young family to Kentucky from Ireland, we were delighted to see the traditions of home preserved by the Bluegrass Irish Society," said Deirdre Lyons. "We have supported the St. Patrick's festivities ever since, and it is my honor to be named grand marshal of the parade. I look forward to celebrating with the community that has embraced us for more than four decades."
"Since the very first St. Patrick's parade in Lexington, the support of Deirdre Lyons and Alltech has helped us grow into one of the longest running civic events in the community," said Megan Moloney, parade chair and president of the Bluegrass Irish Society. "We are honored to recognize Deirdre for the many years of sponsorship she and the late Dr. Pearse Lyons, and Alltech, have provided to the Bluegrass Irish Society and this signature event."
Born in Dublin, Ireland, Deirdre Lyons is the co-founder and director of corporate image, design and construction for Alltech, a global animal health and nutrition company headquartered in Central Kentucky. A graduate of University College Dublin, Deirdre moved to Kentucky in 1977 with her husband, Dr. Pearse Lyons, and their two small children, Aoife and Mark.
Three years later, Deirdre and Pearse founded Alltech with the goal of delivering smarter, more sustainable solutions for agriculture. Today, Alltech has more than 5,000 team members supporting its business presence in over 120 countries. Their products improve the health and performance of plants and animals, resulting in better nutrition for consumers and a decreased environmental impact.
Deirdre Lyons has achieved national and international accolades on behalf of Kentucky through her work on the historic Alltech FEI World Equestrian Games™ 2010; various art initiatives, including the annual Alltech Vocal Scholarship Competition and Alltech Celebration of Song; humanitarian endeavors as far away as Haiti and as close as local primary schools where she has implemented science laboratories to encourage students to explore the world around them through a scientific lens. She participates in numerous leadership boards in Kentucky, including the Kentucky Chamber of Commerce, the Kentucky Horse Park Foundation, the Kentucky Equine Humane Center, the University of Kentucky Sanders-Brown Center on Aging and is the co-chair of the Kentucky Chamber Foundation's Leadership Institute for School Principals. She has been instrumental in designing the visitor experience at Lexington Brewing & Distilling Co. and Dueling Barrels Brewery & Distillery in Pikeville, which was established to create jobs and attract tourism in Eastern Kentucky. In 2019, Lyons was recognized with the VisitLEX award for her tireless efforts to promote the region.
The Lexington Division of Parks and Recreation produces the annual St. Patrick's parade and festival with community support from local businesses and cultural organizations. The day-long celebration begins at the Robert F. Stephens Courthouse with the annual "Blessing of the Keg" at the Alltech tents on the courthouse plaza at 10:45 a.m. Irish musicians, dancers and pipe bands keep the entertainment going all day. The annual parade begins at 1 p.m. and goes down Main Street from Midland Avenue to Mill Street.
This year's entertainment features local and national performers, including Tuatha Dea, an international touring group known for its Appalachian/Celtic sound. The full list of performers includes:
11:00 a.m. – Bluegrass Ceili Academy
11:30 a.m. – Liam Fancy
12:30 p.m. – Lexington Irish Dancers
1:00 p.m. – Festival break for the Lexington St. Patrick's Parade
2:00 p.m. – William Sutherland Reid Pipes & Drums
2:30 p.m. – McTeggart Irish Dancers
3:30 p.m. – Tuatha Dea
5:15 p.m. – Ashton Dunn
Follow @LexStPatsParade on Facebook, Twitter and Instagram for information, event updates and day of coverage.
Deirdre Lyons named 2022 Parade Grand Marshal