Alltech founder to be honored during March 17 event
The board of directors of the Bluegrass Irish Society is dedicating the 39th annual Alltech Lexington St. Patrick's parade in honor of Dr. Pearse Lyons. The parade, which begins at 1 p.m. on Saturday, Mar. 17, in downtown Lexington will begin with a tribute to Lyons, Alltech's founder and a longtime Bluegrass Irish Society supporter.
"The Bluegrass Irish Society lost a friend and benefactor. We are honored to dedicate the parade in his honor," said Bill Enright, parade chair and president of the society.
Dr. Pearse Lyons passed away March 8 in Lexington. Born in Dundalk, Ireland, he moved to the United States in 1976, making Central Kentucky his home. Just five years later, Lexington held its first St. Patrick's parade.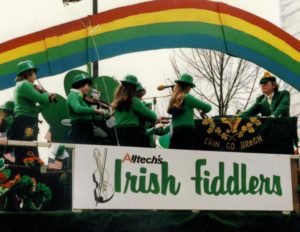 As the title sponsor of the parade and festival, Alltech and the Lyons family have helped bring the annual St. Patrick's celebration to life for tens of thousands of Central Kentuckians who have marched in the parade and many more who have enjoyed watching it for nearly four decades. Lyons previously served as grand marshal of the parade.
"Pearse Lyons was a rare man who lived an extremely enviably life in terms of his accomplishments," Enright said. "He managed to have personal success and serve others along the way. I will miss his great smile, sense of humor and friendship."
The 2018 parade and festival this year fall on St. Patrick's Day. The Lexington Division of Parks and Recreation produces the annual event, with community support from local businesses and cultural organizations. The all-day celebration begins at 8 a.m. with the 12th annual Shamrock Shuffle to benefit Lexington Habitat for Humanity.
The Irish festival kicks off at the Robert F. Stephen Courthouse with the annual blessing of the Kentucky Ale keg at the Alltech tents on the courthouse plaza at 10:45 a.m. Local Irish dancers, musicians and pipe bands keep the entertainment going all day beginning at 11 a.m.
Lexington's St. Patrick's parade, with civic activist Ginny Ramsey as grand marshal, begins at 1 p.m. and goes down Main Street from Midland Avenue to Mill Street. The parade is the longest running citywide civic event in Lexington.
Follow @LexStPatsParade on Facebook, Twitter and Instagram for information, event updates and day of coverage. Parade participants and attendees are encouraged to share their photos online, tag @LexStPatsParade and use #LexStPats2018.
Lexington parade dedicated in memory of Dr. Pearse Lyons